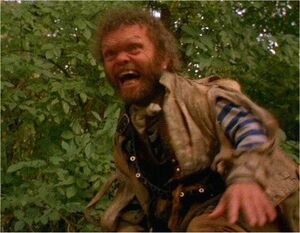 Jack Purvis (1937-1997) was a little person actor who served as an additional performer in The Dark Crystal and appeared in Labyrinth as a member of the goblin corps, along with his daughter Katie Purvis.
Born in London, England, the four foot Purvis acted with Kenny Baker in theaters and clubs before going on to work in the Star Wars films. While Baker was cast as R2-D2, Purvis played a variety of roles in the first three films: the Jawa leader, attacking the robot, in A New Hope, Chief Ugnaught in The Empire Strikes Back, and Teebo the Ewok in Return of the Jedi, appearing in the latter with daughter Katie Purvis.
Purvis later worked with Terry Gilliam in Time Bandits (with John Cleese), Brazil and The Adventures of Baron Munchausen (both with Jonathan Pryce). His final acting appearance was in a 1990 TV version of The Silver Chair from The Chronicles of Narnia.
External links
Community content is available under
CC-BY-SA
unless otherwise noted.