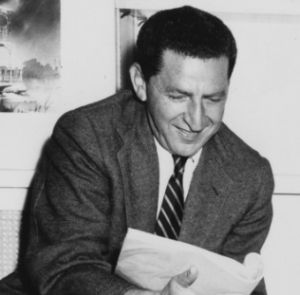 Jack Rose (1911-1995) was a comedy gag man and screenwriter who scripted several Bob Hope films, including Road to Rio, The Great Lover, Sorrowful Jones, The Seven Little Foys, and Beau James. Rose worked on the screenplay for The Great Muppet Caper, alongside Jerry Juhl and the team of Tom Patchett and Jay Tarses.
Rose wrote for the likes of Hope and Milton Berle on radio and helped write the all-star 1945 Command Performance parody "Dick Tracy in B Flat" (starring Hope, Frank Sinatra, Dinah Shore, the Andrews Sisters and others). In addition to the Hope movies, Rose wrote (often with partner Melville Shavelson) scripts or dialogue for Always Leave Them Laughing (a Berle vehicle, 1949), assorted Doris Day musical comedies, the Cary Grant romantic comedy Houseboat (1958, netting an Oscar nomination for best screenplay), The Five Pennies (1959, with Danny Kaye), Papa's Delicate Condition (1963), and A Touch of Class (1973, with Glenda Jackson, earning another Oscar nod). The Great Muppet Caper was his final film credit.
External links
Community content is available under
CC-BY-SA
unless otherwise noted.