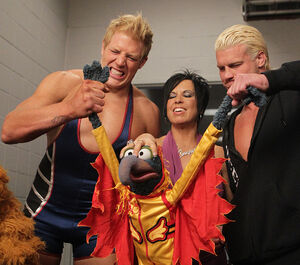 Jack Swagger (born Donald Hager Jr., 1982) is an American professional wrestler formerly signed to the WWE. During his time in the WWE he became WWE World Heavyweight Champion, ECW Champion and United States Champion.
Swagger appeared on the 2011 Halloween episode of WWE Raw where the Muppets appeared as part of a promotional tour for the film The Muppets. He began the show with Vickie Guerrero, interrupting Kermit and Miss Piggy. He told Kermit, "It Ain't Easy Bein' Green? How about, it ain't easy being a plate of frog legs. Now why don't you and your girlfriend get off this stage before I start craving a ham sandwich, Wocka Wocka."
Santino Marella then came out to defend the Muppets and challenged Swagger to a match later in the night.
Swagger, Guerrero and Dolph Ziggler later ran into Gonzo and Fozzie Bear backstage, and stretched Gonzo's limbs and wrapped them around his head, as a message to "his friends" to not get involved in Swagger's match later in the night.
During Swagger's match, Animal served as a special guest timekeeper, and Swagger would go on to lose his match to Marella after getting Dr. Bunsen Honeydew's "Muppet Labs Energy Drink" spat in his face.
External links
Community content is available under
CC-BY-SA
unless otherwise noted.