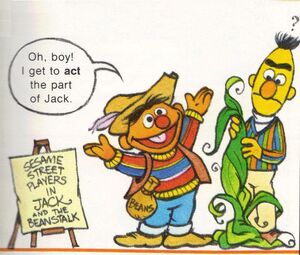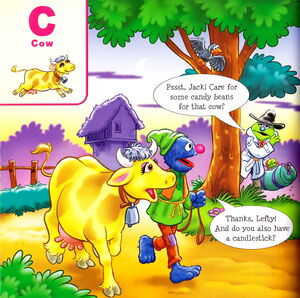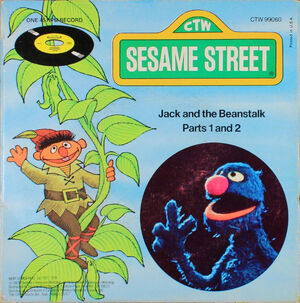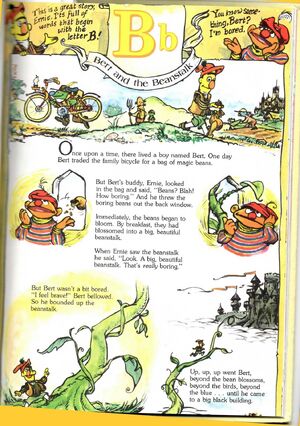 Jack and the Beanstalk is an fairy tale based upon the tale Jack the Giant-killer. First printed in 1807, Joseph Jacobs' 1890 version is the most commonly reprinted version today.
The story has been adapted and referenced for generations. William Shakespeare quoted the giant's "Fee! Fie! Foe! Fum!" in King Lear and Stephen Sondheim used Jack and his trips up the beanstalk as part of his Broadway musical Into the Woods. Mickey Mouse had an animated version in 1947's Fun and Fancy Free (narrated by Edgar Bergen, Charlie McCarthy and Mortimer Snerd), and other cinematic interpretations include Bugs Bunny, Abbott and Costello, The Three Stooges and Gene Kelly.
Adaptations
On Sesame Street, Jack and the Beanstalk has been featured in numerous skits throughout the series.
References
Chicago wants to buy a book about vegtables from Hooper's Store, but when he can't purchase a copy of "Snow White and the Seven Potatoes" or "Little Red Rutabaga," he settles for a copy of Jack and the Beanstalk in episode 3196 of Sesame Street.
In the Mopatop's Shop episode "Mac and the Lollystalk," Mac the Giant would like some giant beans, but Mopatop only has small ones so Ginorman the gardener plants one to grow into a giant beanstalk.
In an animated spoof, Jack waters a lowercase "b" which grows into a "b-stalk." He climbs it and arrives to the Land of B. (First: Episode 0277)
The Dinosaurs comic book featured the story "Nana Ethyl's Dinosaur Tails: Baby and the Beanstalk," with the cast of the show playing all the roles.
Connections
Harry Belafonte voiced the Magician in the "Jack and the Beanstalk" episode of Happily Ever After: Fairy Tales for Every Child
Elliott Gould played the Giant in the Faerie Tale Theatre episode
Jean Stapleton played the Giantess in the Faerie Tale Theatre episode