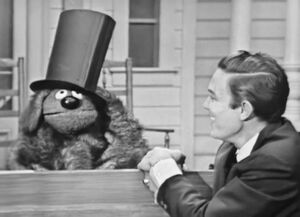 Jackie Gleason (1916 - 1987) was an American comedian, best known for his role as Ralph Kramden on The Honeymooners (a spin-off of a popular sketch on his variety series, The Jackie Gleason Show). Gleason also appeared in films such as The Hustler and Smokey and the Bandit.
References
On the February 27, 1964 broadcast of The Jimmy Dean Show, Rowlf the Dog impersonates Gleason, donning a tall top hat and with the musical fanfare used to introduce the wealthy Reginald Van Gleason III. He then quotes an assortment of Gleason phrases ("Mmm-boy," "How sweet it is," "I'm a dan-dan-dandy") and then with an "And away we go," he goes in frenetic fashion (hurting his ankle in the process). Earlier in the same bit, Rowlf impersonated Frank Fontaine as Crazy Guggenheim from Gleason's Joe the Bartender skits.
In a different Jimmy Dean episode, Rowlf detailed his Thanksgiving dinner at Gleason's house.