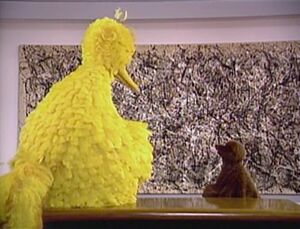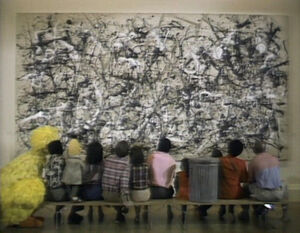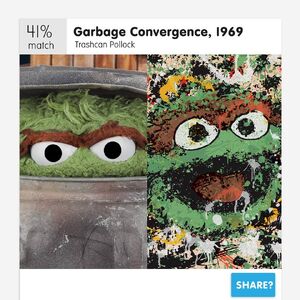 Paul Jackson Pollock (1912–1956) was an American painter in the abstract expressionist movement. During his lifetime, he enjoyed fame and notoriety, yet was a reclusive artist. After his death at age 44, the Museum of Modern Art has featured retrospectives of his career over various periods of time.
References
In a Global Grover segment on Bangladesh, Grover tries to coax a penguin to help him paint when he accidentally imprints himself on his canvas, creating a painted silhouette. Impressed with the results, Grover says "Jackson Pollock, eat your heart out!" (First: Episode 4110)
In a spoof of the Google Art Project trend, where users can find a work of art that looks like them via an app, Oscar the Grouch matched with a painting by "Trashcan Pollock."
Gallery
External links