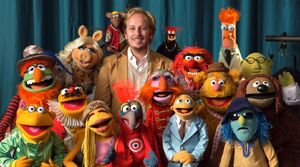 James Bobin is the director of the 2011 film, The Muppets and the co-writer and director of the 2014 film, Muppets Most Wanted. A Muppet caricature of Bobin appears in crowd scenes in The Muppets, and speaks in special feature material on the Blu-ray.
Bobin co-created the HBO series The Flight of the Conchords (with Bret McKenzie and Jemaine Clement). The UK-native worked as a director and writer for The 11 O'Clock Show and Da Ali G Show, and has directed advertising for Diet Coke.
In early 2014, Bobin spoke to Starburst magazine (in issue 398) about the future of the Muppets beyond Muppets Most Wanted:
"I really feel like I've gotten to know them, so I'd love to make more. I'd really like to bring The Muppet Show back. I think that's something that people would love to see still. When we make the films I always feel like we try to put as many sketches and skits into it as we can. I think that people respond well to that. It's a case of finding the time and people inclined to make it. I do think there's room for a Muppet show on TV today. The world still needs a Muppet show."