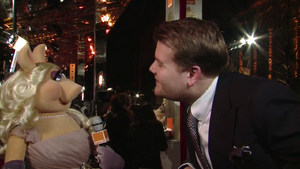 James Corden (b. 1978) is an English actor and comedian who has hosted The Late Late Show on CBS since 2015. Early in his acting career, Corden played Bran in Jack and the Beanstalk: The Real Story.
At the 2012 BAFTA Awards, he talked with Miss Piggy on her red carpet show for Orange Film.
Corden guest starred in Sesame Street's 47th season, appearing in Episode 4724 in a segment about "Father's Day" with Elmo and Grover (filmed in March 2016). Corden also appeared in the celebrity version of "Rubber Duckie." (First: Episode 4710)
As writer and producer, he co-created the romantic comedy TV series Gavin & Stacey, and the sketch comedy series Horne & Corden. As a television presenter, he hosted the comedy/sports-themed game show A League of Their Own, and has co-hosted Red Nose Day benefits for charity. His film credits include Lesbian Vampire Killers, Gulliver's Travels (with Jason Segel and Jack Black), and Disney's film adaptation of Into the Woods (with Emily Blunt). On TV, he played Craig Owens in the Doctor Who episodes "The Lodger" and "Closing Time."