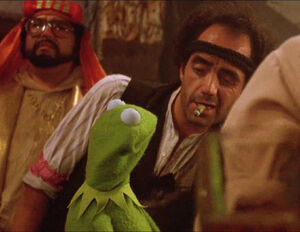 James Frawley (1937-2019)[1] was a veteran television and film director. As director of The Muppet Movie, he had the distinction of helming the first cinematic showcase for the Muppets.
Frawley also appeared in the film in a cameo role, as the greasy waiter at the El Sleezo Cafe. As a gift for his work on the film, he received his own Muppet caricature.
In a 2007 interview, Frawley recalled how he got the job directing The Muppet Movie:
Frawley's other credits as a film director included the disaster spoof The Big Bus (with Stockard Channing, Sally Kellerman, and Richard Mulligan) and The Christian Licorice Store. With the exception of the 1985 sex comedy Fraternity Vacation, his post-Muppet Movie work has been almost exclusively in television, and covered a wide range, from several installments of Columbo and Law & Order to the Ally McBeal pilot, Smallville, and Grey's Anatomy.
Sources
External links