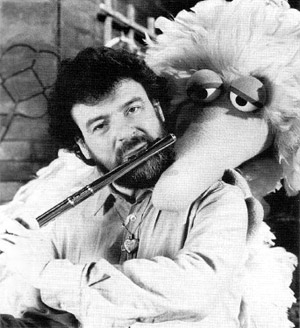 Sir James Galway (b. 1939) is an Irish flautist who counts Jean-Pierre Rampal amongst his many teachers.
In 1996, Galway contributed a "Thai-Cooked Prawns" recipe for Miss Piggy's cookbook, In the Kitchen with Miss Piggy.

Sesame Street appearances
| Picture | First | Description |
| --- | --- | --- |
| | Episode 1414 | Galway plays a beautiful tune on his flute for Oscar the Grouch, who considers it awful. He gets an old flute that's been in his family for generations and demonstrates how grouchy it sounds. James still manages to make beautiful music with it. |
| | Episode 1423 | Malcolm imagines a walk in the woods based on the music Galway plays on his flute. His imaginary walk tuckers him out, so James plays him a lullaby. |
| | Episode 1426 | Oscar can't get an energetic Slimey to go down for his nap. Galway plays a jig on his flute, which Slimey dances to until he gets too tired and falls asleep. "You Irish sure have a way with worms," Oscar notes. |
| | Episode 1429 | Galway plays the alphabet of notes (which only goes up to G) as Big Bird identifies them. |
| | Episode 1430 | Big Bird pretends that Galway is his granny. |
| | Episode 1437 | Galway plays his flute different ways to convey different emotions. |
| | Episode 2541 | Pretty Great Performances: Live from Sesame Hall, Phil Harmonic introduces Maria and Galway, who perform "Concerto for Flute and Pool Toy" by Ludwig von Splash. |
| | Episode 2561 | Pretty Great Performances: Galway and the All Animal Chamber Ensemble perform a work by Johann Sebastian Fox. |
| | Episode 2605 | Ruby shows James Galway that she has trouble playing the flute. He shows her how to blow into it, but she eventually decides to use it as a baton instead, while he plays. |
Community content is available under
CC-BY-SA
unless otherwise noted.