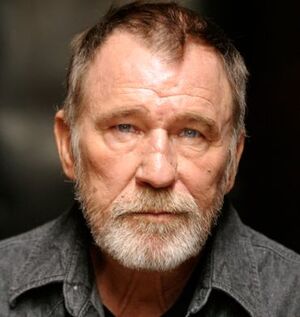 James Gammon (1940-2010) was a character actor whose raspy voice and grizzled appearance led to gruff elder roles, notably as coach Lou Brown in Major League and Don Johnson's father on Nash Bridges (1996-2001). Gammon voiced Big Al in the Creature Shop-effects film The Country Bears.
Gammon began his career in the sixties on television, usually playing henchmen on Bonanza, Batman, Felony Squad, Gunsmoke, and The Wild Wild West. His film debut was in Cool Hand Luke (1967), uncredited as prisoner Sleepy. Similarly earthy roles followed in dozens of movies including A Man Called Horse, Macho Callahan, Clint Eastwood's Any Which Way You Can (as the bartender) and Urban Cowboy (mechanical bull operator Steve Strange).
In 1978, he began a long stage collaboration with Sam Shephard, appearing in several of his plays through 2000 (often as troubled patriarchs). His film roles also grew in size after 1980, such as Sheriff Fry in The Ballad of Gregorio Cortez (1982) and a horsethief in Robert Redford's Milagro Beanfield War (1988). After his highest profile role, as weathered Cleveland Indians coach Brown in 1989's Major League (which he reprised in 1994's Major League II), he continued to work steadily. In film, Gammon played a string of veteran lawmen, soldiers, pioneers, or plain old coots in The Adventures of Huckleberry Finn, Cabin Boy, Cold Mountain, Wyatt Earp, and Point Blank. He also lent his voice to The Iron Giant (as two townsmen) and played historical TV roles in the miniseries Lincoln (as Ulysses S. Grant) and The Young Indiana Jones Chronicles (as Teddy Roosevelt).
External links