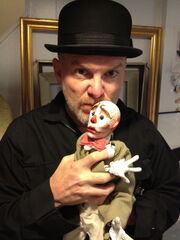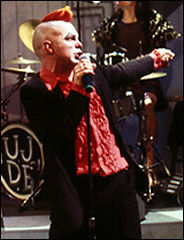 James Godwin is a puppeteer, performance artist, visual artist and actor who served as a Muppet performer on Elmo's Christmas Countdown and A Muppets Christmas: Letters to Santa. Godwin's non-Muppet credits include such series as It's a Big Big World (as Bob), The Book of Pooh (puppeteering Pooh), Between the Lions, and Oobi. He also participated in the Chappelle's Show parody of Sesame Street, "Knee High Park". He also puppeteered the Wyatt Cenac puppet at the White House on The Daily Show. video
Godwin founded the puppet troupe the Elementals, which has performed at the Jim Henson International Festival of Puppet Theater. He also co-wrote and starred in the adult puppet variety stage show Uncle Jimmy's Dirty Basement. As a voice actor, Godwin played Private Public and Farmer John on Mo Willems' Sheep in the Big City. He was also a cast member of Henson Alternative's off-Broadway show "Stuffed and Unstrung". He has worked with Julie Taymor, David Bowie and even Aerosmith. His film and T.V. credits include I Sell the Dead, Ice Age 2: The Meltdown, as well as It's a Big Big World for PBS, Saturday Night Live and the forthcoming Stake Land.
Most recently, Godwin's one man puppet and performance art show, Lunatic Cunning, took home best in show at the Puppeteers of America Festival and was the winner of the prestigious Jim Henson Award for Innovation. The show was also the recipient of a 2012 project grant from the Jim Henson Foundation and had its premiere at Dixon Place in N.Y.C. in April of that year.
External links