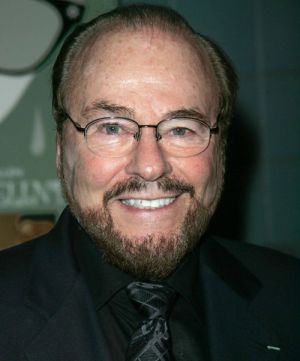 James Lipton (b. 1926) is a TV personality, producer, writer, and occasional actor, best known as the creator and host of Inside the Actors Studio.
In the 1970s and 1980s, Lipton was a frequent producer and staff writer for Bob Hope's TV specials. In that capacity, he crossed paths with the Muppets (and Jim Henson) whenever they guest starred, including both the 1978 and 1983 specials Happy Birthday, Bob (both with Kermit, the former also with Miss Piggy) and the 1979 special The Road to China (with Big Bird), among others.
In his 2008 memoir Inside Inside, Lipton writes at length about Road to China and riding in the Hope troupe's limo with Caroll Spinney and Kermit Love (who was brought to help maintain Big Bird and assist Spinney in suiting up). In particular, he shares an anecdote about finding that Oscar the Grouch had been brought along (despite not appearing in the special) and, after some stern reactions from Love, was allowed to manipulate Oscar, thanks to Spinney's intervention.
Lipton's long and diverse career includes a stint as a child and juvenile actor on radio station WXYZ in Detroit, notably playing nephew Dan Reid to The Lone Ranger. He also appeared in both radio and TV versions of The Guiding Light in the 1950s (as Dr. Richard Grant). He wrote and acted for television in the 50s and 60s (including an episode of You Are There, as Michelangelo), and more recent appearances have included Arrested Development (semi-recurring as Warden Gentles), According to Jim, a brief cameo as himself in Glee, and voicing the director in Disney's Bolt.
References
Sources
Terrace, Vincent. Encyclopedia of Television Pilots, Series and Specials: 1974-1984. 1985.