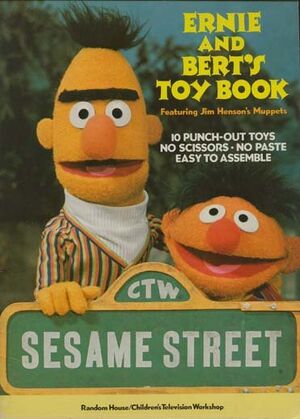 James Razzi, also known as Jim Razzi, is an author and designer of children's books, specializing in paper punch-out or cut-out craft and model books. He designed and illustrated the 1977 Sesame Street activity book Ernie and Bert's Toy Book, with punch-outs creating Sesame characters and paper toys. He later designed the 1983 Sesame Street Playtime Book, combining pop-ups and punch-out characters (with art by Tom Cooke).
Razzi's earliest work as an illustrator was for Macmillan educational books in the 1960s and '70s. In 1968, he wrote Simply Fun! Things to Make and Do (1968), followed by several sequels (including Bag of Tricks: Fun Things to Make and Do with the Groceries) and a shift into focusing on paper activities, games, and puzzles for kids. These included The Star Trek Action Toy Book (1976, designing and illustrating), consulting or writing Star Trek puzzle manuals, designing activities for Star Wars books, and designing The Empire Strikes Back and Return of the Jedi punch Out and make it books.
Other punch-out/cutout books include Spooky Action Cut-Outs, Super Heroes (with DC Comics characters), Christmas Action Cut-Outs, The Strawberry Shortcake Playhouse, The Dukes of Hazzard Punch-Out Fun, A Smurf Village Punch-Out Book, and designing a punch-out skeleton for the 3-2-1 Contact book The Incredible Body Machine (1981). Outside of paper crafts, Razzi authored a few Choose Your Own Adventure books, The Get-Along Gang and the Missing Caboose, Encyclopedia Brown game and puzzle books, various Disney books, and the Encyclopedia Brown-style Sherlock Holmes-spoof series Sherluck Bones.