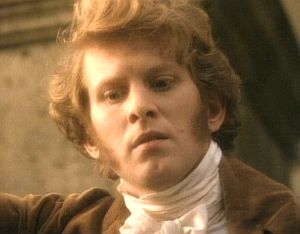 James Wilby (b. 1958) is a British actor (born in Burma) who played the prince in The StoryTeller episode "Sapsorrow."
Wilby had previously played Baker, a suitor of young Alice Liddell, in Dreamchild, which used Creature Shop characters.
Wilby starred as the title character in the 1987 film Maurice (with Billie Whitelaw and Ben Kingsley). Later film work include key supporting roles in Howards End, Gosford Park, and De-Lovely (the musical biography of Cole Porter). In television, he played King George IV in the TV movie Bertie and Elizabeth and appeared in two Agatha Christie adaptations, Sparkling Cyanide and Marple: The Sittaford Mystery.
External links