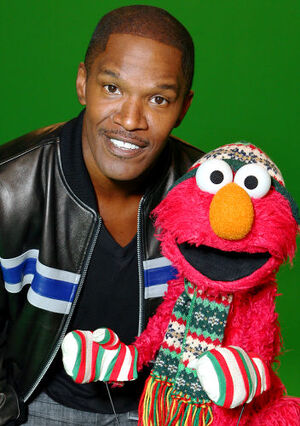 Jamie Foxx (b. 1967) is an actor and R&B singer who won an Academy Award for his portrayal of Ray Charles in Ray.
He appeared in Season 37 of Sesame Street, in a segment with Elmo and Jamie Fox, which the Sesame Workshop press kit refers to as "Will the Real Jamie Foxx Please Stand Up." He appears in another segment with Fox and Elmo, singing the alphabet, and a skit where he dances in the clouds (inserted via green screen).
Foxx later appeared in the Sesame Street holiday special Elmo's Christmas Countdown performing the "Nutcracker" medley, which he wrote and composed for the special.
His song "Unpredictable" contains a sample of Susan saying "I like that!" from the Sesame Street track "I've Got Two".
External links