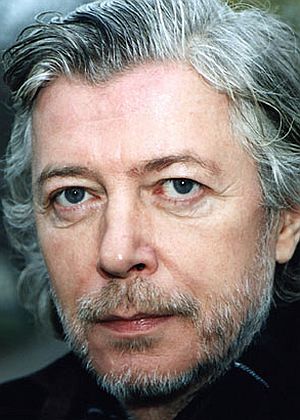 Jan Spitzer (b. 1947) is a German voice actor who voiced Tex Richman in the German dub of The Muppets (2011). He previously dubbed D'Argo on Farscape - Verschollen im All (the German Farscape dub), as well as the Dormouse in Alice in Wonderland.
Spitzer is the standard German voice of Chris Cooper, as well as Alan Arkin in most films since Little Miss Sunshine. Often lending his voice to physically imposing or unsavory figures, he has dubbed Danny Trejo (five films), Brad Garrett in several projects, Lee Arenberg (in the Pirates of the Caribbean movies and Pushing Daisies), Jon Voight (three times), Richard Portnow (twice), Michael Clarke Duncan in The Players Club, Vincent Price in Steve Martin's Dead Men Don't Wear Plaid, and against type, Bill Irwin in Lady in the Water.
Cartoon roles include the Brain on Animaniacs and Pinky & the Brain, Dr. Drakken in Kim Possible, Cad Bane in Star Wars: The Clone Wars, the oafish guard in Disney's The Hunchback of Notre Dame, Megatron in several Transformers series and later Ratchet in the Michael Bay films, and J'onn Jonnz and others in DC direct-to-video projects. In the Power Rangers franchise, he dubbed the villains Lord Zedd and Ransik. Other TV dub roles include Hugh Bonneville on Doctor Who, Richard Roundtree on Heroes, Reiner Schöne on Murder, She Wrote, and guest stars on multiple Star Trek series.
External links