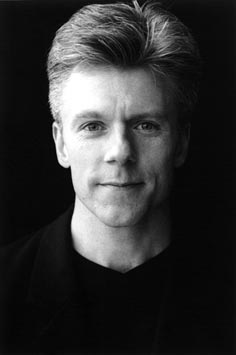 Jan Tellefsen (b.1960) is a Danish actor who voiced Kermit in Muppets Fra Rummet and Mr. Magorium's Wonder Emporium and Big Bird and various characters in Sesam, luk dig op, Elmers Verden, Glædelig Jul, Elmer and Elmo I Surmuleland. He was the dubbing director for Bjørnen i det Blå Hus.
Tellefsen is a professional singer who studied at The Academy of Music, Aalborg. He has appeared in various musicals at Danish theaters, including The Sound of Music at Aalborg theater and Les Misérables and Atlantis (written by Sune Svanekier, the Danish voice of Tutter) at Østre Gasværk theater in Copenhagen.
He has also played in a few bands over the years. He was in the band Westwood from 1992-1993. He was also in the band "Stay Tuned" and they placed second in 1997 in the Danish contest of the Eurovision Song Contest.
Tellefsen has voiced many cartoons over the years, but lately has focused more on directing voice actors. Some of his voice actor/directing credits include Two Brothers (dubbing director), Dragon Ball Z (voice and dubbing director), Kirikou et les bêtes sauvages (dubbing director), Hoodwinked (dubbing and song director), and the new Danish version of Emil i Lönneberga (voice and dubbing director).
External links
Community content is available under
CC-BY-SA
unless otherwise noted.