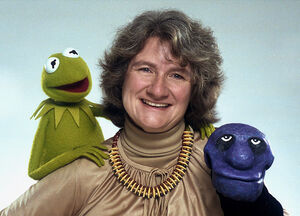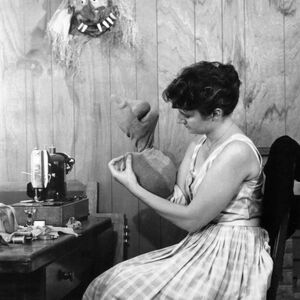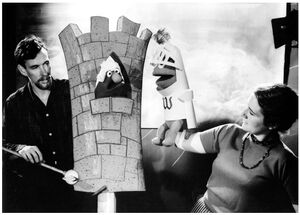 Jane Henson (née Nebel; June 16, 1934 — April 2, 2013) was the wife of Jim Henson from May 28, 1959[1] until his death in 1990. She was also the mother of Jim Henson's five children: Lisa, Cheryl, Brian, John, and Heather Henson.
Nebel and Henson met in a puppetry course at the University of Maryland, College Park, where they were both undergraduates. At the time, Nebel was a senior majoring in art education and Henson was a freshman studying to become a commercial artist.[2] Nebel later became Henson's puppeteering partner on the television show Sam and Friends, and the two eventually married.
Though Jane Henson was one of Jim Henson's first puppeteering partners, she seldom supplied voices.[3] One of the few exceptions was in the Sesame Street song "Women Can Be". She performed considerably less after the birth of the couple's second child, Cheryl.[4] However, she would occasionally serve as a background performer in various projects afterwards, with her last known performance occurring in episode 103 of The Muppet Show.
Jim and Jane Henson separated in 1986, but remained close until Jim's death in 1990.
In recent years, Jane Henson was a part of the Jim Henson Legacy Board of Directors. As president of The Jane Henson Foundation, she has donated to Sesame Workshop, provided funding to the Jim Henson's Fantastic World exhibit, and The Carter Center founded by U.S. President Jimmy Carter.
Jane passed away on April 2, 2013. The film Muppets Most Wanted was dedicated to her and Jerry Nelson.
Performing credits
Additional credits
Sources
External links