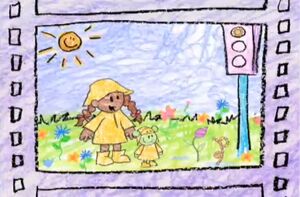 Janie & Jerome was a series of animated shorts produced by Sesame Workshop (some of which have aired on Sesame Street projects) between 2003 and 2008, about a little girl (Janie) and her teddy bear (Jerome). They featured Kibriyaa Morgan as the voice of Janie, were directed by Jennifer Oxley, and written by Eric Weil.
Janie & Jerome: The Move (2003)
Janie & Jerome: Rain (2003)
Janie & Jerome: The Last Note (2005)
Janie & Jerome: The Supper Surprise (2006)
Janie & Jerome: Light's Out! (2008)
"Light's Out" is the only segment to include an additional speaking character, a firefly voiced by Whitney Kraus Jones.
Though the segments never aired on the domestic Sesame Street, they have been included in the international co-productions (such as Plaza Sésamo). One short, "Light's Out!," was included on the 2009 home video release Bedtime with Elmo.
Community content is available under
CC-BY-SA
unless otherwise noted.