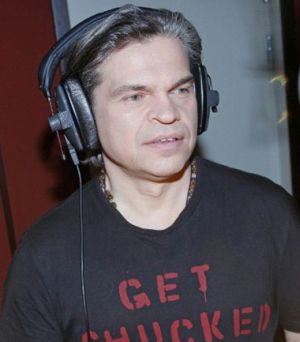 Jarosław Boberek (b. 1963) is a Polish voice actor who has dubbed roles in several Muppet projects, notably as several main characters in Muppety, the dub of the 2011 film The Muppets. In both the film dub and the book and CD adaptation, Boberek voiced Fozzie Bear, Gonzo, Animal, and Waldorf.
Boberek previously dubbed Baby Gonzo in Mapeciątka (Muppet Babies), Oscar the Grouch and the Easter Bunny in Elmo Saves Christmas, Uncle Traveling Matt in the 1990s redub of Fraglesy (Fraggle Rock), and Treelo in Niedźwiedź w dużym niebieskim domu (Bear in the Big Blue House). In Creature Shop-effects films, he dubbed Lucky in Dr. Dolittle and a police sergeant in 101 Dalmatians.
Boberek's most notable dubbing role is Donald Duck, while feature animation roles include Gollum in Bakshi's 1978 The Lord of the Rings, Sarge in the first two Toy Story movies, Pain in Hercules, King Julien in Madagascar, and Jacques in Finding Nemo. He was heard in several Hanna-Barbera cartoons (as Mr. Jinks, Muttley, Lippy the Lion, and Choo Choo on Top Cat) as well as the Polish voice of Popeye.
Boberek has dubbed Jackie Chan in several movies (including Around the World in 80 Days and the remake of The Karate Kid), Irrfan Khan as Dr. Rhatha in The Amazing Spider-Man, Watto and Owen Lars in Star Wars Episode II: Attack of the Clones, several pirates in the 2003 Peter Pan, and Tobey Maguire in an episode of Eerie, Indiana.
External links
Community content is available under
CC-BY-SA
unless otherwise noted.