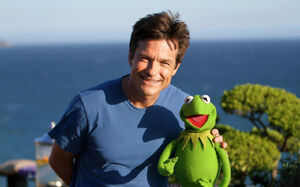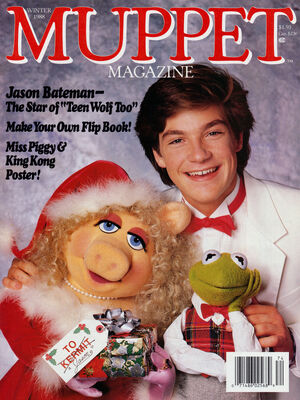 Jason Bateman (b.1969) is an actor who became famous for his starring role in the TV show Silver Spoons. He has also starred in Teen Wolf Too, The Hogan Family, Arrested Development and with Kermit the Frog in Mr. Magorium's Wonder Emporium, and again with the frog as a guest in The Muppets episode "Pig's in a Blackout."
He appeared in the Winter 1988 issue of Muppet Magazine. His sister is actress Justine Bateman, who also appeared in Muppet Magazine. Bateman also appears in a season 41 Word of the Day segment of Sesame Street, talking with Elmo about the word "comfort." (First: Episode 4215)
Bateman spoke to Empire magazine about his favorite Muppet: "The guys on the balcony. They're shit-talkers and they seem like they want to be anywhere but there. I've always been into that kind of comedy."[1]
Bateman's first role came on the television series Little House on the Prairie. His other credits include the feature film Forgetting Sarah Marshall, and the television series Scrubs, King of the Hill, and The Twilight Zone.
Sources
↑ Empire issue 272 "Stars Reveal Their Favourite Muppets" February 2012
External links
Community content is available under
CC-BY-SA
unless otherwise noted.