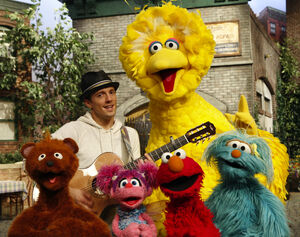 Jason Mraz (b. 1977) appears in the 40th season of Sesame Street singing "Outdoors", a parody of his song "I'm Yours".
Being interviewed on the set of Sesame Street alongside Elmo for 2009's InFANity, he recalled:
"My love of music actually began, probably, when I saw the very first movie that I went to see, which was the Muppet Movie, believe it or not. So, right away there was music; so much music in life, fused into that entertainment."
After which, Elmo immediately motivates him to do a short impromptu performance together of "Rainbow Connection."
In 2020, Mraz appeared in the Fraggle Rock: Rock On! webisode "Wembley and Gobo's Mrazmerizing Adventure!", where he sang "Wemblin' Fool" with Wembley and Gobo. He reappeared in the season finale "Party Down in Fraggle Rock!", taking part in a celebrity version of "Fraggle Rock Theme" (where he sung Boober's closing line).
External links
Community content is available under
CC-BY-SA
unless otherwise noted.