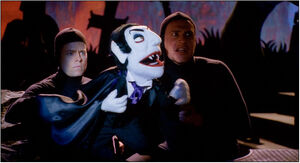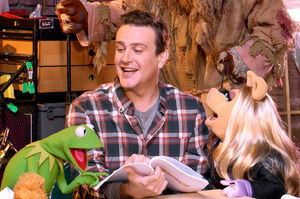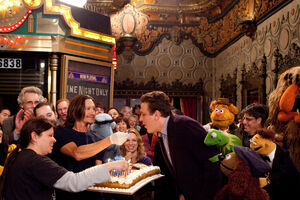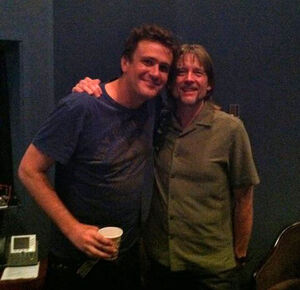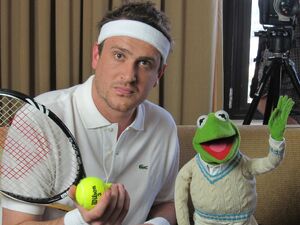 Jason Segel (b. 1980) is an actor and writer who stars as Gary in the 2011 feature film The Muppets. He's best known for his work on television on the series Freaks and Geeks and How I Met Your Mother (co-starring with Neil Patrick Harris). He went on to establish a film comedy career, notably in Forgetting Sarah Marshall, where he performed puppet characters created by Jim Henson's Creature Shop.
Segel wrote the script for The Muppets with Forgetting Sarah Marshall director and co-writer Nick Stoller. In June 2008, Segel said: "I actually just turned in my first draft of the Muppets and I'm really excited about it. I think we're bringing them back. Hopefully it will fall right in the pantheon of The Great Muppet Caper, Muppets Take Manhattan, Muppet Movie, you know, we're trying to make one of those."[1]
In Rolling Stone's Top 10 list of "The Best in TV, the Web, Books and Beyond" from June 2008, Segel's role in "reviving the Muppets" was voted number one on the list:
"

"To me, Kermit was the original Tom Hanks — the Everyman," says Jason Segel, so awesome (and so full-frontal) in this spring's Forgetting Sarah Marshall. "He really shaped what I wanted to be as an actor." Man, we're feeling you — and we think it's brilliant that the Jim Henson Company tapped Segel to revive Muppet mania. "We are trying to bring the franchise back to the perfect tone they had established in the early Eighties," Segel tells us. "No more Muppets Underwater.... This movie is about the Muppets putting on a show to help each other out. Simple and heartfelt... I also expect really cool cameos." How are his actors responding? "Both Animal and Gonzo have been very easy... It's Camilla the Chicken who is a royal pain in the rump."[2]

"
In a March 2009 interview promoting I Love You, Man, Segel was asked about the status of the Muppet movie. He said, "[Co-writer Nick Stoller and I] have written four or five drafts; now we're just waiting patiently on Disney to see what they want to do. It's such a big commitment for them because it's relaunching the franchise, so it's a bit slower going than a regular movie because there are decisions about rights and toys and timing they need to make."[3]
After The Muppets, Segel has stated that he'd like to make a film involving puppets from a script he had written in his early twenties "a kids adventure movie in the style of Goonies or Labyrinth or something like that. It's a really cool kids adventure story and there could be puppets involved. I have an idea for a type of puppet I've never seen before." [4]
Segel's other film credits include Knocked Up, I Love You, Man, Gulliver's Travels (with Jack Black) and Bad Teacher and Sex Tape (with Cameron Diaz).
On Wednesday 3rd September 2014, when Jason Segel and Cameron Diaz were on BBC Radio 1 promoting Sex Tape, Cameron asked Jason which of the Muppets he would "Snog, Marry, Avoid". Jason replied he would probably snog and marry Janice, but he would definitely avoid Miss Piggy.
Notes
Segel's name is frequently misspelled "Segal." The error even appeared in promotional material for The Muppets, such as in a promo video and on the first version of the franchise's 2011 website.
Segel puppeteered Dr. Teeth and Beaker while also acting in the crowded car scenes of The Muppets. He also puppeteered Fozzie in a scene of the movie.[5]
Sources
Community content is available under
CC-BY-SA
unless otherwise noted.