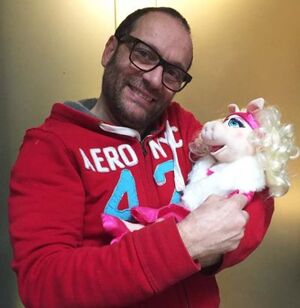 Javier García Sáenz, also credited as Javier García and Javier Sáenz, is a Spanish voice actor who has been the official Castilian voice of Miss Piggy since the early 1990s. He also voiced one of the Stepsisters in the 2001 dub of Hey Cinderella!
Sáenz has dubbed multiple characters on The Simpsons, including Apu, Smithers, Professor Frink, and Dr. Nick Riviera. He also dubbed Jimbo on South Park, Linda on Bob's Burgers, and Bruce on Family Guy. Puppet roles include the titles characters on Cousin Skeeter and The Basil Brush Show. For video games, he dubbed Timon in Kingdom Hearts II and various characters in Black & White 2.
On-camera, Sáenz has appeared regularly on an assortment of comedic game shows and variety series, including Un, dos, tres... responda otra vez (in various literary and historical roles), Con t de tarde, and Quédate conmigo. He's had minor guest roles on several telenovelas (often as doctors) and on the sitcoms Aquí no hay quien viva and La que se avecina.
Muppet dubbing credits
as Miss Piggy unless specified
External links
Community content is available under
CC-BY-SA
unless otherwise noted.