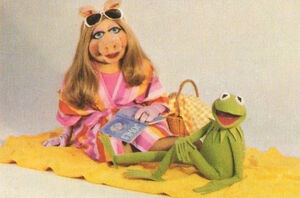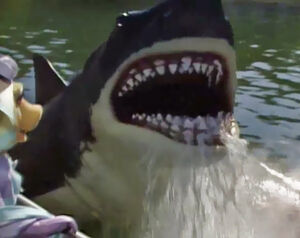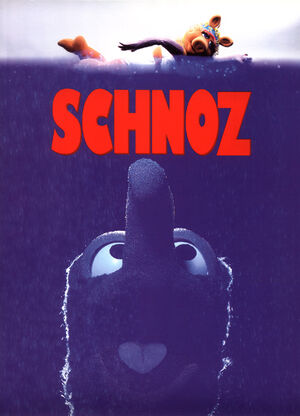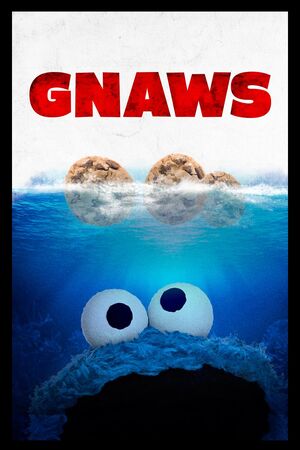 Jaws is a 1975 thriller directed by Steven Spielberg, with music by John Williams. The first blockbuster of its kind was based on a best-selling 1964 novel by Peter Benchley set in Martha's Vineyard, Massachusetts. The plot of the film centers around a town sheriff who finds himself in a new job just as a great white shark begins to terrorize the waters of a local beach.
Despite the film's reputation for decreasing beach attendance in the years following its release, Jaws spawned several sequels and video games, and has been subject to a number of spoofs and parodies in its honor.
References
Miss Piggy can be seen at the beach reading a book called "JOWLS" in a 1978 Swedish trading card, the cover of which features a parody of the Jaws poster.
The score for a scene with Gonzo sneaking up on Rowlf underwater in Rocky Mountain Holiday spoofs Williams' famous two-note motif. The home video release replaced this music with something more generic.
In Episode 2660, Oscar dives for fish skeletons in his swimming pool. He paraphrases the Jaws 2 tagline, saying, "And just when I thought it was safe to go back into the trash can." The scene is punctuated by a Jaws-style musical sting.
In a "Bay of Pigswatch" sketch from episode 101 of Muppets Tonight, Miss Piggy and a shark share an exchange similar to a scene from the beginning of the Spielberg film. Again, Williams' score is very loosely interpreted for dramatic effect.
A Brief History of Motion Pictures features a shark who chases several characters, underscored by the Williams motif. As a twister approaches, he looks to the camera and says, "Just when I thought it was safe!," paraphrasing the famous tagline used to promote the theatrical release of Jaws 2.
The music was again referenced on Sesame Street in a series of live-action shorts in which the camera films a pool full of children from underwater and builds up to a climax with the Jaws theme to reveal a letter of the alphabet.
Elmo makes his hand into a shark fin and makes it swim from below the frame while the Williams' motif plays in Elmo's World: Hands.
Dorothy imagines Elmo as a construction worker in Elmo's World: Open and Closed. Elmo addresses the "jaws" portion of a vehicle when attempting to pick up a teddy bear. Although the term appears coincidental, John Williams' two-note motif from the film is referenced in the underscore for the scene.
A video created for Disney Xtreme Digital features Kermit's impression of Jaws as he pans his open mouth past the bottom of the frame. Williams' two-note motif is used to accent the impression.
The waiting queue at Muppet*Vision 3D features a parody poster of Die Hard. It quotes the tagline from the original promotional campaign from Jaws 2: "

Just when you thought it was safe to go back in the water...

"
In the Muppet Babies episode "I Want My Muppet T.V.," Baby Animal attacks his friends in a cardboard box boat with a fin attached to his back and announces himself as "Animal Jaws" before he takes a bite out of their boat.
When a shark approaches Baby (mer)-Bear and Telly underwater in Sesame Street Episode 4049, they're scared by his accompanied music, a parody of the Jaws theme.
During a June 12, 2012 appearance on the London radio program Heart Breakfast, Pepe says that his favorite movie is Jaws.
A portion of the Jaws theme is incorporated into the melody of "Between You and Me" when a shark appears.
In Episode 4049 of Sesame Street, a pastiche of the Jaws theme plays when an alphabet shark swims on the scene.
In a 2017 Vanity Fair video, Oscar the Grouch utters "You're gonna need a bigger boat," a famous line from the film uttered by Roy Scheider's Chief Brody.
A parody of the movie poster featuring Cookie Monster titled "Gnaws," was posted on Sesame Street's Facebook page in June 2017. The caption referenced dialogue from the film: "Hey Captain? We're going to need a bigger cookie… #FirstDayofSummer #ShareTheLaughter"
Connections