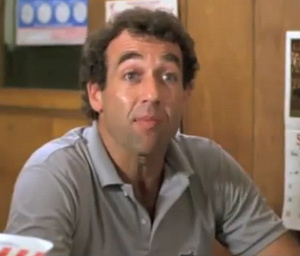 Jay Tarses (b. 1939) is a comedy writer for television and film who co-wrote The Great Muppet Caper and The Muppets Take Manhattan with writing partner Tom Patchett. He also had a cameo in Caper as the flight attendant who tosses Fozzie Bear, Gonzo, and Kermit out over England.
Tarses and Patchett wrote for The Bob Newhart Show, notably penning "Death of a Fruitman" (in which a recurring character is crushed to death by a truckload of zucchini) and took over as executive producers after the third season.
The pair also worked on The Sandy Duncan Show and Buffalo Bill (starring Dabney Coleman), before parting ways in 1985. Tarses went on to create The Days and Nights of Molly Dodd and appeared on-camera with Jim Carrey in the short-lived sitcom The Duck Factory. Most recently, Tarses co-created the BBC radio sitcom Revolting People, about pre-Revolutionary America, and played the lead role.
External links