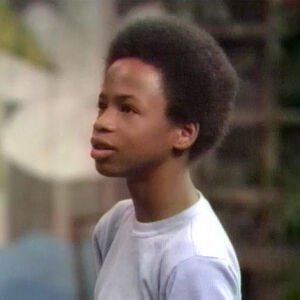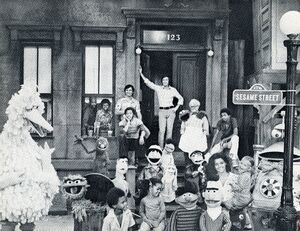 Jay Tucker played one of the kids on Sesame Street beginning in the show's first season when he was nine years old.[1]
Unlike most child talent on the show who appeared fleetingly throughout the years, Jay (as he was referred to by other characters, in contrast to another recurring child actor who played Antonio) would return many times during his tenure on the show, effectively growing up among the Muppets and human cast members on the show. He is notably shown graduating high school in Episode 1025 alongside Mr. Hooper who had just finished night school.
Some of his notable episodes include Episode 0415 where he helped Mr. Snuffleupagus throw garbage away in an oversized trash can, and Episode 0598 where he inadvertently helps Sherlock Hemlock find Luis's pencil. Although most of his involvement could be found in street scenes, he also featured in a "Three of These Kids" segment as one of three kids in contrast to a fourth who is pictured upside-down. (First: Episode 0413)
As Tucker grew older, and stuck around on the show, he eventually served as something of a bigger kid among the younger children who were more commonly woven into the goings-on of a typical street story. One such example can be found in a repeated segment in which Luis plays some of Big Bird's home movies projected on the wall for the kids to interact with.
Appearances
Sources
Community content is available under
CC-BY-SA
unless otherwise noted.