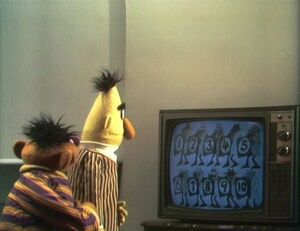 A series of animated counting films were used on Sesame Street produced during the first season. From two to ten, for each film, the songs are individually registered as "Jazz #x," where x is the featured number.
The segments, featuring race cars and spies, were shown regularly from Season 1 to Season 22 (but skipped entirely in Season 4), with vocals provided by Grace Slick of Jefferson Airplane. The first segment, "Jazz #2", debuted in the first test pilot, and was first broadcast in the first episode of the series. Jazz #3 appeared in the second test show.
Composer Denny Zeitlin remembers:
"Jazz #8" was occasionally followed by an Ernie and Bert sketch, where they play the "Sandbox" game. It begins with Ernie watching (and singing along to) the end of the segment on his TV.
The film for #2 was included on Old School: Volume 1, as part of episodes 1 and 536, and in Old School: Volume 2, as part of the test pilot. The film for #10 was included in the Sesame Street Unpaved special.
During the early years of Sesame Street, these cartoons were also shown dubbed in Spanish. On the Shalom Sesame videos, Hebrew dubbed versions of #4, #6 and #8 appear, respectively, on Show 3: Kibbutz, Show 5: Jerusalem, and Show 6: Chanukah. The Sesame Street Unpaved book features stills of the race cars on the first page of each chapter. The spies from these segments appear on the cover of The Sesame Street Book of Numbers.
Segments
Picture
Number
Description

2
cyclist, 2 elevator doors, George Washington and Abraham Lincoln, 2 shaking hands, 2 fish, 2 people shoot at each other (paper rolls that say "2" come out of their guns)
(First: Episode 0001)

3
racecar driver, 3-headed creature (with 3 teeth), 3 balls, 3 holes, 3 mice, 3 lights on a traffic light, 3-pronged pitchfork held by the Devil
(First: Episode 0002)

4
hockey player, 4 airplanes, 4 diamonds on a playing card, 4 fish, 4-legged table, 4-legged chair, 4 elephants
(First: Episode 0006)

5
football player, 5 fingers, 5 animals, 5 butterflies, 5 cents on a gumball machine, 5 gumballs, 5 guys riding on an alligator
(First: Episode 0007)

6
train, 6 dots on a die, 6-legged insect, 6 pairs of legs on a dragon that is revealed to be 6 men in a dragon costume
(First: Episode 0011)

7
runner, wizard with 7 rabbits, boxing turtle, 7 of clubs on a playing card, 7 flying clubs
(First: Episode 0136)

8
8 ball, octopus, 8 marching dogs, 8-petaled flower, which is eaten by an 8-legged creature, which is eaten by an 8-legged spider, which is swallowed by a snake
(First: Episode 0016)

9
a guy jumping into a bucket, 9-paned window, 9 hats worn by 9 kids, 9 apples, 9 hearts, dancing goat
(First: Episode 0137)

10
guy holding a flag with "10" on it, 10 cars in a race, 10 dogs, 10 feathers on a peacock, 10 spies on the racetrack, #10 driver wins the race
(First: Episode 0193)
Sources
Community content is available under
CC-BY-SA
unless otherwise noted.