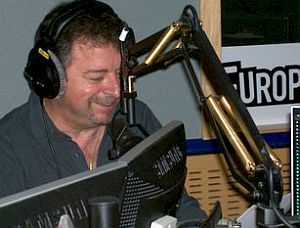 Jean-Claude Donda (b. 1949) is a French voice actor who has dubbed several roles in Muppet projects, notably Gonzo and Dr. Bunsen Honeydew in most of the 1990s feature films. He has also dubbed Fozzie Bear on occasion and Pip in Tibère et la maison bleue (Bear in the Big Blue House).
Donda's voice is frequently heard on radio as the station signature voice, such as Europe 2. He supplied the French voice of William H. Macy in Seabiscuit and Wild Hogs, Mickey Rooney in the re-dub of Pete's Dragon, Nathan Lane in Love's Labor Lost, and Bruce Campbell in Spider-Man 2 and Spider-Man 3. Most of his work has been in animation, including Launchpad McQuack and others in Disney's DuckTales and Darkwing Duck, Mole and other villains in Chip N' Dale Rescue Rangers, Jerry on the French-produced series Totally Spies, and various guests on Batman: The Brave and the Bold (including Merlin and Sherlock Holmes).
In Disney animated features, he voiced Doc in the redub of Snow White and the Seven Dwarfs, the secretary bird in Bedknobs and Broomsticks, Vinny in Atlantis: The Lost Empire, and the singing voice of Winnie the Pooh in several projects, including the 2011 film. For Pixar, he voiced the Cleaner in Toy Story 3 and the newsreel announcer in Up. Donda has also been heard in original animated features, including Sylvain Chomet's The Triplettes of Belleville (as General DeGaulle and other bits) and The Illusionist (as Tatischeff, the title character).
Muppet/Creature Shop dub credits
External links
Community content is available under
CC-BY-SA
unless otherwise noted.