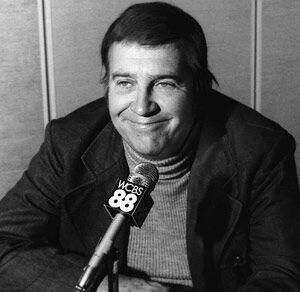 Jean Shepherd (1921-1999) was a writer, satirist, storyteller, and radio personality, perhaps best known for his many semi-autobiographical works dealing with his childhood. Much of this later became the basis for the film A Christmas Story, for which Shepherd co-wrote the screenplay and narrated. In 1971, Shepherd recorded all of the voices for the Sesame Street cartoon insert "Cowboy X." (First: Episode 0325)
Shepherd discussed the experience in detail on the September 07, 1971 broadcast of his radio program, which ran on New York station WOR from 1956 until 1977:
"I just had a magnificent professional coup.... I just don't know how to recover from it.... Well now, what I did today was I played X, the letter X, on Sesame Street. You know how they have these letters, you know, B, D, C Q? Well, I played all the voices in a little drama introducing letter X. I played the townspeople, it was a beautiful little Western, it was a shoot-out right there in the town... I played Cowboy X, I played the townspeople.... Silly. Well, here I am, a grown man, and finally I've reached the peak of my professional prowess, and I'm playing an animated letter X on the Sesame Street show... In fact, the guy who produces those letters looks almost exactly like the Cookie Monster.... Then I threw a Nabisco in his trap, and we start business. Oh man, I tell you it's groovy.... I talked to the producer, and said 'How come X?' There's a long pregnant pause, and he says, 'Well, it's typecasting. You should realize that you're a perfect letter X.'"
Shepherd also noted that the voice for Cowboy X was hard on his throat: "It's not easy to holler 'Yippee!' like that."
Sources
External links
Community content is available under
CC-BY-SA
unless otherwise noted.