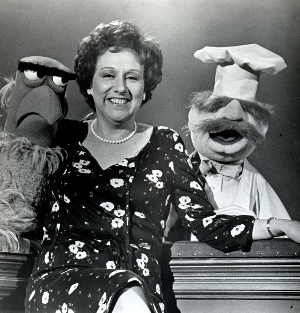 Jean Stapleton (1923-2013) was an American actress best known for playing Edith Bunker on All in the Family (from 1971 to 1979). She also had a background in musical theater, appearing in the original casts (and subsequent movie versions) of Damn Yankees (as Sister) and Bells Are Ringing (as answering service owner Sue).
She guest starred on The Muppet Show episode 306 (at one point referring to Fozzie as a "dingbat," Archie Bunker's nickname for Edith). She also made a brief appearance in the 1979 special The Muppets Go Hollywood.
Stapleton contributed a "Sheba Casserole" recipe for Miss Piggy's 1996 cookbook, In the Kitchen with Miss Piggy.
Stapleton's other stage credits included the original Broadway run of Funny Girl (1964, as Mrs. Strakosh) and the non-musical play Rhinoceros (1961, as Mrs. Ochs, appearing with Zero Mostel). In 1984, she played Miss Tweed in a Showtime-aired production of the Agatha Christie-spoofing musical Something's Afoot (originally a 1976 Broadway flop, then popular in community theater). Prior to TV stardom as Edith, Stapleton appeared in episodes of many New York-based TV series and live teleplays in the 1950s and 1960s, including Robert Montgomery Presents, Lux Video Theatre, The Defenders, Naked City, Car 54, Where Are You, and The Patty Duke Show (with William Schallert) with more sporadic Hollywood TV spots such as Dennis the Menace, My Three Sons, and Dr. Kildare.
Later TV work included assorted TV movies (playing Eleanor Roosevelt in 1982's Eleanor, First Lady of the World, Ariadne Oliver in 1986's Dead Man's Folly, opposite Peter Ustinov as Hercule Poirot, and appearing in installments of Shelley Duvall's Faerie Tale Theatre) and guest spots (most often as a regular's aunt, mother, or grandmother) on Murphy Brown, Beakman's World (as Beakmom opposite Paul Zaloom), Caroline in the City, Everybody Loves Raymond, and Touched by an Angel. Sporadic film credits included supporting roles in Up the Down Staircase (1967), Cold Turkey (1971, with Dick Van Dyke), Michael (1996, with John Travolta and Andie MacDowell) and You've Got Mail (1998, with Tom Hanks).
External links