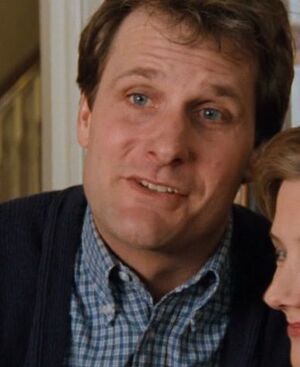 Jeff Daniels (b. 1955) is an actor and playwright whose film credits include Dumb and Dumber, Arachnophobia, Terms of Endearment, and Speed. He played Roger in the Creature Shop-effects film 101 Dalmatians (nursing an animatronic puppy back to life) and played Tim O'Hara in another Creature Shop-effects project, My Favorite Martian.
In 2014, Daniels appeared along with Big Bird, Cyndi Lauper, Sam Waterston, and others in the "We'll Meet Again" finale of the final episode of The Colbert Report.
Daniels' other work includes starring on the HBO series The Newsroom and performing on stage as a singer/guitarist, often with his son Ben Daniels.
Muppet Mentions
Daniels wrote the 1996 stage play Apartment 3A. The protagonist, Annie, works for a PBS station and delivers on-air fundraising appeals mentioning Sesame Street. The appeal escalates, from needing money to keep the show on the air to explicitly stating that "without Channel 68, Big Bird and all his friends will be dead." Station management and staff worry about traumatizing kid viewers, but a later appeal by Annie has Big Bird on life support.
External links
Community content is available under
CC-BY-SA
unless otherwise noted.