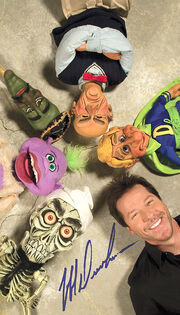 Jeff Dunham (b. 1962) is an American ventriloquist and stand-up comedian who has appeared on numerous television shows, including Late Show with David Letterman, Comedy Central Presents, The Tonight Show and Sonny With a Chance. His style has been described as "a dressed-down, more digestible version of Don Rickles with multiple personality disorder". Describing his characters, Time observes, "All of them are politically incorrect, gratuitously insulting and ill tempered." Dunham has been credited with reviving ventriloquism, and doing more to promote the art form than anyone since Edgar Bergen.
Muppet Mentions
In the tour Jeff Dunham: Spark of Insanity, his character Peanut (the purple monster in the picture) comments on another of his characters Jose Jalapeno (the green jalapeno beside him) calling Jeff "Senor Heff" and then "Senor Cheff". Jeff Dunham says it's the same thing and Peanut replies "No it's not! Didn't you watch Sesame Street?" Then he sings a brief section of "One of These Things", singing "One of these things just doesn't belong here". Then he parodies the end of Sesame Street by saying that "this show was sponsored by the sound CH."
In one of his interviews, he was advertising one of his Peanut Dolls and one of his other puppets, Walter (the old guy beside Jose) commented on it saying "Oh, what a cute little Muppet!"
In his Controlled Chaos tour, his puppets Peanut and Jose are fighting and one of the insults Jose throws him is "Muppet Reject".
In his Minding the Monsters show, Bubba J are dressed as a beer vampire. Jeff tells Bubba J that he kinda looks like the count from Sesame Street. Bubba J then asks Jeff if its the vampire that can count and after its confirmed he says that the area that the count and he are different as he can only count to six and that he has to trust that there are twelve beers in a twelve pack.
On his Netflix show, Jeff Dunham: Relative Disaster, Walter comments on how much younger Jeff's wife is. "She is more familiar with Sesame Street. What, you sweep her off her feet by doing Cookie Monster impressions?". Walter then continues with a Cookie Monster impression "Oh, I love Audrey. Do you want a kiss or a cookie?". Walter then jumps to a Count impression "You're one, two, three times older than your wife", followed by "Rubber Duckie, you're the one.".