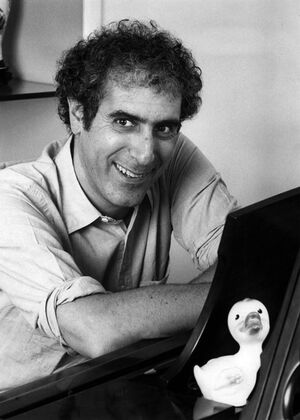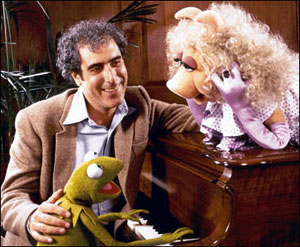 Jeff Moss (June 19, 1942 - September 24, 1998) was a writer, composer and lyricist on Sesame Street. He served as head writer from seasons 2 to 5 and wrote some of the show's best-known songs including "Rubber Duckie," "I Love Trash," "The People in Your Neighborhood," "I Don't Want to Live on the Moon," and "Nasty Dan." Moss also helped in the creation and development of characters such as Cookie Monster, Oscar the Grouch, and Guy Smiley.
Moss won 15 Emmys for his work and wrote the songs for four Grammy Award-winning records. When released as a single in 1970, "Rubber Duckie" sold more than a million copies. Moss' songs were known internationally as well; Claude François' recording of "Nasty Dan" went to #1 on the pop chart in France.
He also composed the songs and score for The Muppets Take Manhattan, for which he received an Academy Award nomination for Best Music, Original Song Score. The Oscar went to Prince for "Purple Rain."
Moss wrote over a dozen best-selling books under the Sesame Street label, including The Sesame Street Book of Poetry. Several of his songs have been illustrated and published as well. He also wrote three collections of children's poetry and several short stories.
Moss died of cancer on September 24, 1998. One of his last writing credits was the script for the Elmo's World segment "Music."
Composer credits
See also: The Muppets Take Manhattan soundtrack
Other Productions
Trivia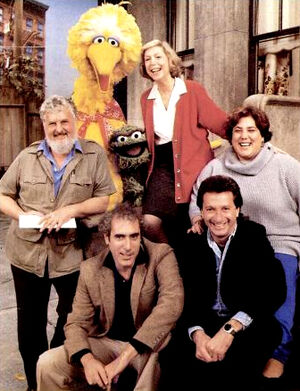 A chair at New York City's Hayden Planetarium is dedicated to Moss, immortalized by a plaque with his name, dates of birth and death, and the caption "Beloved Star".
Author Credits
The Butterfly Jar
The Other Side of the Door
Bone Poems
Bob and Jack: A Boy and His Yak
Hieronymus White
Dad of the Dad of the Dad of Your Dad
External links
Community content is available under
CC-BY-SA
unless otherwise noted.