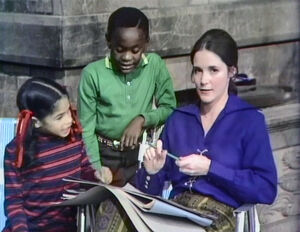 Jennie is a resident of Sesame Street who appeared on the show in its first season.
In Episode 0001, Gordon introduces Sally to Jennie, who is knitting. Jennie also appeared in segments in which she sat and drew pictures for the kids. In one of these segments, the children had to guess at what the drawing would become as she drew.
Jennie was dropped after the first year, but the "mystery drawing" element was retained, in the animated "Today's Secret Drawing" inserts.
Notes
Some scripts spelled her name "Jenny", but her on-screen credits cite her name as "Jennie".
See also