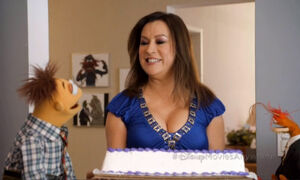 Jennifer Tilly (b. 1958) is an actress working in film since the early 1980s.
She appears in the second episode of Disney Drive-On with The Muppets.
Her other credits include playing Tiffany Ray in the Child's Play movies, voicing Celia Mae in Monsters, Inc., Liar Liar (with Jim Carrey), and voices for Family Guy.