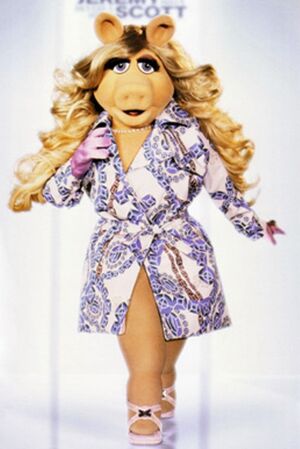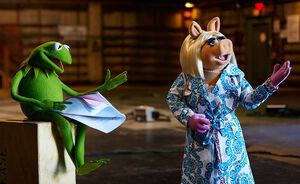 Jeremy Scott is an American fashion designer who has shown collections in Paris, London, Moscow and New York City. Often creating outrageous designs, his clients include Madonna, Kanye West, Katy Perry, Lady Gaga, Paris Hilton, Justin Timberlake, Perez Hilton and Kylie Minogue. His designs have been featured in ELLE, Vogue and NYLON and he has even appeared as himself on the soap opera The Young and the Restless.
Scott dressed Miss Piggy as Edie Sedgwick for a photoshoot with Kermit the Frog as Andy Warhol. Among the accessories Piggy wore to compliment Scott's outfit were gloves by LaCrasia and a ring by Noir.
Scott has dressed Piggy on more than one occasion, including her front row appearance at his fashion show and for The Muppets world premiere. One of his dresses for Piggy was featured on an American Greetings Mother's Day card in the mid-2000s and inside ODDA Magazine in 2015.
External links