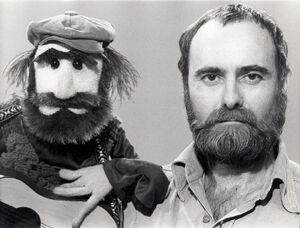 Jerry is the guitar player for the Country Trio, a Muppet band that performed in variety show appearances in the mid 70s, and occasionally on The Muppet Show. Jerry, and his fellow Trio members Jim and Frank, are based on their respective performers. Bonnie Erickson, who designed and built Jim and Frank, said that "[the puppets] are dressed that way, because that's how [Jim, Frank and Jerry] dressed then."[1]
They were created for an appearance on The Perry Como Winter Show in 1972, where they sang "You Don't Mess Around with Jim." The group next appeared on The Dick Cavett Show in 1973, singing "Momma Don't Allow."
They also appeared in The Muppet Show: Sex and Violence and several episodes of The Muppet Show, including episodes 105 and 123.
On The Dick Cavett Show, the members of the Trio addressed each other as "Jim", "Frank" and "Jerry". In The Muppet Show episode 322, Jerry is referred to as Tex.
The Country Trio appeared in a promo for PBS in the 1970s singing a song to urge viewers to "keep our kids learning" through public television with programs like Sesame Street, Mister Rogers' Neighborhood, and The Electric Company. In this appearance Jerry was voiced by Richard Hunt. (YouTube)
Sources
See also