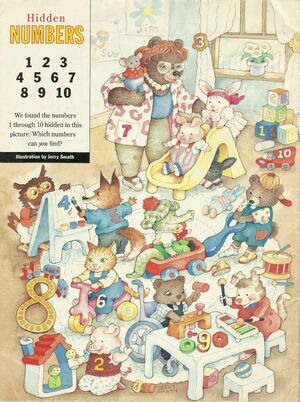 Jerry Smath is an illustrator who has contributed to Sesame Street Magazine, at least as early as 1985 and as recently as 2006. Rather than Sesame Muppet characters, Smath usually handled features such as the seasonal illustrations for the monthly calendar, or animal characters.
Smath is an established illustrator, and often author, of children's books, dating to the Golden Press book ABC: A Playtime Alphabet to Color, followed by Cowboy ABC (1960) and The Look Look Book ("A Golden Answer Book"; 1961). He was referred to in trade magazines as a "decorative illustrator," since stylized designs and use of color were his trademarks, especially evident in his two-color illustration to children's magazine Humpty Dumpty.
Smath went on to illustrate The Clown Arounds series, phonics and math-themed books, kids books about dinosaurs and coping with alcohol, the 1997 book Fly Trap (by Sesame magazine cohort Dina Anastasio), and the adult-oriented Home-Owner's Record Book, as well as adaptations of The Little Red Hen, The Night Before Christmas, Hans Christian Andersen fairytales, and The Wheels on the Bus. He wrote and illustrated his own books, starting with But No Elephants (1979) and including The Housekeeper's Dog (1980), Peek-a-Bug (1990), Up Goes Mr. Downs (1985), and the Investigator books (about a detective alligator).
Smath's illustrations accompanied humorous articles and editorials in Field & Stream. For musician/songwriter Tom Chapin, Smath dillustrated the "singable" book Sing a Whale Song (1993) and did covers for the albums This Pretty Planet (2000) and Give Peas a Chance (2011).