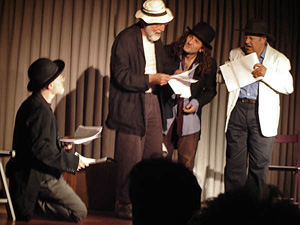 Jesús Alcaide is a Spanish actor who puppeteered the snail Perezgil in Barrio Sésamo, the Spanish version of Sesame Street, from 1979 to 1980.
Jesús Alcaide began his career as an actor in the 1977 film Cara al sol que más calienta (1977, Jesús Yagüe). Only two years after that, he was chosen to perform the voice and movements of a Muppet on the series Barrio Sésamo during its first period. His character, wise snail Perezgil, would always be on a wall, interacting with human characters and with Caponata.
In 1980, Televisión Española cancelled Barrio Sésamo, which had not become a success. It would later become much more popular in its second period, 1983-1987, but neither Alcaide nor Perezgil were used in that time.
Meanwhile, Alcaide continued his career as an actor during the 1980s. He began with small roles in Waiting for Daddy (1980, Vicente Escrivá and Too Much for Galvez (1981, Antonio Gonzalo), where he played a "small bandit." After two years without a role, in 1984 he only managed to appear as a guest in an episode of the sitcom La Comedia, and then, in 1985, he did a little cameo in the mainstream movie Crimen en familia (1985, Santiago San Miguel, with José Enrique Camacho, who appeared in the second period of Barrio Sésamo).
In 1987, Alcaide appeared in mini-series Lorca, muerte de un poeta, under director Juan Antonio Bardem. The actor disappeared for almost a decade until 1996, when he appeared in two Spanish films. He first played a small role as a doctor in Freedomfighters (Vicente Aranda, alongside Barrio Sésamo actor Jesús Ruyman). He also had an essential role as the referee in Matías, Juez de Línea (Santiago Aguilar and Luis Gurudi), an acclaimed movie where a Spanish linesman, following a strict honor code, points out a foul that ends Spain's hopes of winning the championship. Referee Ayestaranovich, played by Alcaide, has to obey.
In 1997, Alcaide appeared as a guest on the successful series Querido maestro (with Ruth Gabriel as a regular). The following year, Alcaide worked with directors Aguilar and Guridi yet again in Atilano for President, in a key supporting role as a priest. He has since appeared again in a guest role in another successful series, Cuéntame cómo pasó in 2004. He has also appeared in a minor role in Alberto Boadella's comedy ¡Buen viaje, excelencia! (2003), as one of Francisco Franco's ministers.
Community content is available under
CC-BY-SA
unless otherwise noted.