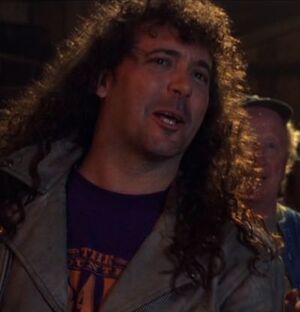 Jess Harnell (b. 1963) is a voice actor and singer best known as the voice of Wakko on Animaniacs and other cartoon roles. Harnell was heard as the announcer for The Muppets' Movie Mania parodies "Flipperdance" (sporting an Irish accent) and "The Frogfather." On the 2018 Muppet Babies series, he sang a sports movie style ballad (a la Rocky and Karate Kid) in the second season episode "The Karate Cub." He had a small cameo in the Creature Shop-effects film The Country Bears (directed by Animaniacs writer/producer Peter Hastings), attending the bears' concert (credited as "Long-Haired Dude").
Harnell began as a singer, often heard in film soundtracks (Cage, My Cousin Vinny), commercial jingles, and records. He's often imitated Elvis Presley, such as on the 1989 Rhino album Rerun Rock and several TV shows (including an episode of Legends of Tomorrow). His earliest cartoon work was for the 1987 Hanna-Barbera animated feature Rock Odyssey (singing solo on two numbers). By the late '80s and early '90s, he'd worked for Disney (as soundalike for Roger Rabbit in video games and theme parks, Br'er Rabbit in the Splash Mountain ride, and a guest villain on Darkwing Duck) and sang the theme song on Taz-Mania. Beginning in 1993, he voiced Wakko on Animaniacs, using a Liverpudlian accent, and also voiced Slappy Squirrel's nemesis Walter Wolf.
Regular cartoon work includes The Tick (Sewer Urchin), the nineties The Pink Panther revival (various bullies), Drawn Together (Captain Hero), and Sofia the First (Cedric), as well as voicing Ironhide in the live-action Transformers movies. He was heard in Casper the Friendly Ghost (when Casper impersonates Arnold Schwarzenegger) and took over as Fatso on the animated series. Video games include the Crash Bandicoot series (in the title role), multiple Star Wars titles (Ki-Adi-Mundi and others), and soundalikes for movie tie-ins (Robots, Surf's Up, etc.)
External links
Community content is available under
CC-BY-SA
unless otherwise noted.