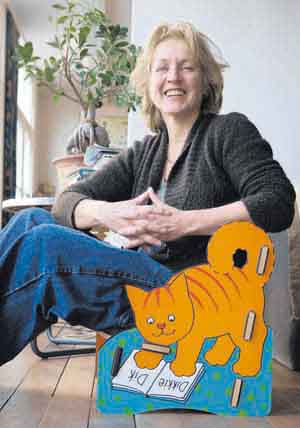 Jet Boeke (b. 28/10/1948) is a Dutch children's author and illustrator. She is a contributor to Sesamstraat. The Dutch co- production of Sesame Street. She is also famous worldwide for her book series Dikkie Dik.
The short funny and most of al reconizable stories about the red cat Dikkie Dik are an important insert in Sesamstraat since 8 march 1978. She first writes the stories befor she start scetching the drawing. Also she wants the pictures explain the story themselves.
She doesn't write the stories all by her self alone. Arthur van Norden is her co-writer. He was specialized in writing short childerens stories and known her from before the beginning. Each year they still both finish one or two stories.
Uitgeverij Gottmer in Haarlem is het publisher since the biginning. Almost 50 books and several toy's and puzzles later she still enjoy creating new material for this funny cat.
Cameos
On december 2001 she visited Sesamstraat. There she read a story from her own hand.
Awards
In 2000 Jet won de Kiekeboekprijs (The piekebook award) for Waar is Dikkie Dik? Where is Dikkie Dik?
External Links