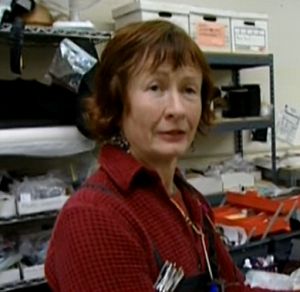 Jill Thraves, sometimes credited as Jill K. Thraves, is a costume designer who began her association with Jim Henson on Mother Goose Stories. She went on to several Creature Shop projects, notably overseeing suit fabrication for Teenage Mutant Ninja Turtles II: The Secret of the Ooze and working on Dinosaurs.
Prior to her Henson work, Thraves made costumes for Monty Python's The Meaning of Life and was a fabricator for the plant on Little Shop of Horrors. She has worked as a costumer on many superhero movies, often specializing in capes (such as for Superman Returns). She was a specialty costumer on Marvel's Daredevil (2003, working on the mask/headpiece), Thor, Captain America: The Winter Soldier, Ant-Man, and others.
Other costume credits include Mystery Men, Star Trek Into Darkness (supplying hats), and various installments of The Hunger Games. For video games, she contributed costumes for motion capture or reference footage, including Uncharted 3: Drake's Deception and inFAMOUS 2.
Henson/Creature Shop credits