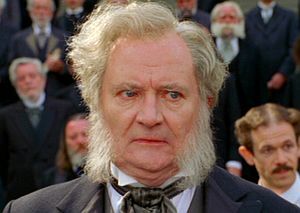 Jim Broadbent (b. 1949) is an Academy Award-winning British actor who supplied the voice of Eddie, one of the lions in the Creature Shop-effects film Pride. He also played Lord Kelvin in Around the World in 80 Days, with digital effects from the Creature Shop.
Broadbent began his acting career on stage and shifted to other media in the 1970s, notably playing Vroomfondel and Shooty in the BBC radio series The Hitchhiker's Guide to the Galaxy. In the 1980s, he garnered small roles in The Dogs of War and Terry Gilliam's Time Bandits and moved on to more substantial character roles in Gilliam's Brazil, Superman IV: The Quest for Peace, and a leading role in Life Is Sweet, directed by stage colleague Mike Leigh (opposite Alison Steadman). Subsequent films with Leigh include Topsy Turvy (as W. S. Gilbert) and Vera Drake (as the judge). In 2001, Broadbent won the Academy Award for Best Supporting actor for his portrayal of professor John Bayley in Iris.
Other film credits include Moulin Rouge! (as Zidler), Hot Fuzz (as Inspector Frank Butterman), Bridget Jones' Diary, Gangs of New York (as Boss Tweed), The Chronicles of Narnia: The Lion, the Witch and the Wardrobe (as Professor Kirke) and Harry Potter and the Half-Blood Prince (as Horace Slughorn.)
External links
Community content is available under
CC-BY-SA
unless otherwise noted.