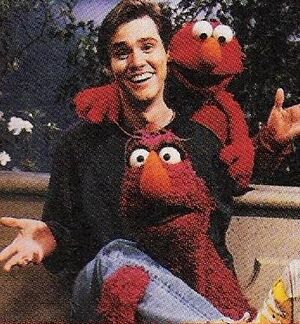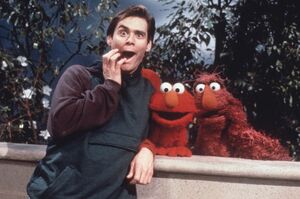 Jim Carrey (b. 1962) is an actor and comedian who shot to stardom on the sketch comedy show In Living Color.
Carrey appeared on Sesame Street in a sketch with Elmo and Telly Monster, in which he demonstrated happiness and sadness with his feet. (First: Episode 3023) As noted in Sesame Street Unpaved, the sketch was originally written for Steve Martin, who canceled out. A clip from the sketch appeared in Sesame Street's All-Star 25th Birthday: Stars and Streets Forever. At one point there was brief talk in casting Carrey as the lead on Puppetman.[1]
Carrey and his breakout film Ace Ventura: Pet Detective have been spoofed by the Muppets on several occasions. In the 1999 calendar Muppet Movie Parodies: Our Wedding or Your Funeral, Kermit appears as Frog Ventoori, Wet Detective. And in the "Miss Piggy's Story" issue of The Muppet Show Comic Book, Scooter considers Kim Jarrey as a possible guest star; unfortunately, he is busy filming Ace Fedora, Hat Detective.
Carrey spoke to Empire magazine about his favorite Muppet: "My favourite is Mr. Snuffleupagus, because my daughter was obsessed with him. She called him 'Ubble-ubicus' and that memory pops into my head from time to time. But I also like Oscar the Grouch. There's always room for a grouch."[2]
In a 1980s appearance on The Tonight Show, Carrey performed a series of impressions. Carrey ended the routine with a performance of "Rainbow Connection," imitating Kermit, Miss Piggy and Gonzo (with the aid of a banana). He performed the same characters and song on CITY-TV talk show You're Beautiful, in 1981.
External links
Sources