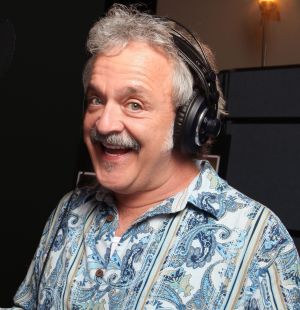 Jim Cummings is a prolific voice actor whose longest-running roles include Winnie the Pooh (since 1988) and Tigger (since 1990). He reprised both roles in the special Cartoon All-Stars to the Rescue, with the Muppet Babies, and later in puppet form (from The Book of Pooh) for the "We Are Family" music video. He also voiced the full-bodied Muppet Scales the dragon in the 1990 pilot episodes for Little Mermaid's Island and was later heard in promos for the syndicated run of Dinosaurs (in one as Rad Reptile, a redubbed Dr. Elliott Piaget).
Cummings began doing character voices in the mid 1980s, with his first regular role as Lionel on the Disney Channel costume/puppet series Dumbo's Circus. Other Disney roles, in addition to Pooh and Tigger, include Mickey Mouse nemesis Pete, Darkwing Duck, Razoul in Aladdin and spinoffs, hyena Ed (and part of Scar's singing) in The Lion King, Ray in The Princess and the Frog, Don Karnage and Louie on TaleSpin, Kaa in assorted The Jungle Book projects, Zummi (like Tigger, taking over from Paul Winchell) on The Gummi Bears, and an Andy Devine-sounding bullet in Who Framed Roger Rabbit.
For Warner Bros., Cummings voiced the Tasmanian Devil on Taz-Mania and in other Looney Tunes projects and was frequently heard on Animaniacs (often narrating in his impression of original Winnie the Pooh voice Sterling Holloway). His long resume includes Cat on CatDog, Fuzzy Lumpkins on The Powerpuff Girls, Hondo Ohnaka in various Star Wars spin-off series, Shocker on the 90s Spider-Man series, M.O.D.O.K. on Iron Man, Mr. Bumpy on Bump in the Night, Leatherhead and Genghis Frog (and sometimes Shredder) on Teenage Mutant Ninja Turtles, Lurch on the nineties The Addams Family series, and several regulars on the short-lived CTW Saturday morning series Cro.
External links
Community content is available under
CC-BY-SA
unless otherwise noted.