Jim Henson's Fantastic World was a large traveling exhibit that opened in September 2007. The exhibit gave a firsthand look into the creations, imagination and works of Jim Henson.
The exhibit was organized by the Jim Henson Legacy and the Smithsonian Institution Traveling Exhibition Service, with cooperation from the Henson family, the Jim Henson Company, the Muppets Holding Company and Sesame Workshop.
The 3,000 square-foot exhibit visited thirteen locations across the United States for twelve-week showing periods, running from September 2007 to March 2012.
For the exhibit's stop at the Experience Music Project/Science Fiction Museum in Seattle, the puppet band Mudgarden Experience was created by local artist Annett Mateo, for a hands-on experience with Muppet-style puppets of Kurt Cobain, Jimi Hendrix, Carrie Akre and Keith Moon. Visitors could rock out to Me First and the Gimme Gimmes' version of "Rainbow Connection", while a Master Replicas Gonzo poser "operated" the camera set up on top of a "1234 Seattle" stoop.[1]
For the exhibit's stop at the Museum of Science and Industry in Chicago, Miss Piggy in her wedding gown from The Muppets Take Manhattan was added as a special item. Jane Henson appeared on February 24, 2011 in Peoria, Illinois for a special presentation on the early years of Jim Henson. Michael Bloomberg lent his Muppet likeness for display during the exhibit's time at The Museum of the Moving Image.
Exhibit Features
Several of Henson's Muppets and Creatures (including characters from The Muppet Show, Sesame Street, Fraggle Rock, and other productions)
Over 100 framed works of art (include paintings, sketches, cartoons, and storyboards)
A large collection of rare photographs
Unique production documents
Additional artifacts and film props
Over 30 minutes of special video presentations
An illustrated timeline of Henson's life and career
Behind the scenes
Tour Schedule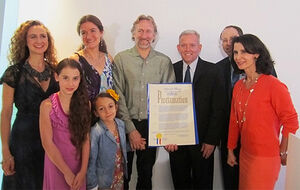 Canceled because the museum closed its doors on January 5, 2010
10/30/10 - 01/23/11: Museum of Science and Industry (Chicago, IL)
02/12/11 - 05/01/11: Lakeview Museum of Art and Science (Peoria, IL)
07/16/11 - 03/04/12: Museum of the Moving Image (Astoria, Queens, NY)
According to Bonnie Erickson, executive director of the Jim Henson Legacy, archivist Karen Falk was insistent that the newly opened New York museum be the final stop on the show's tour. According to Erickson, "We had not been in the New York area, and we had been all over the country, and we've enjoyed being at every one of the museums, they've all been terrific to us, but it was something special to come home, so we're really happy to be here."[2]
Sources
↑ Akimbo Puppets Mudgarden Experience puppet band commission information
External links