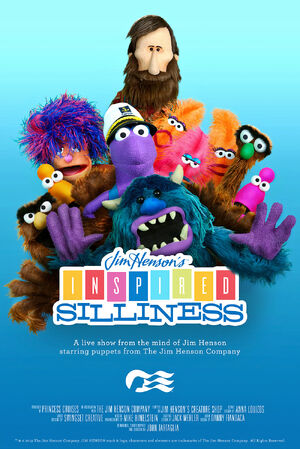 Jim Henson's Inspired Silliness is a stage show that premiered aboard the Sky Princess cruise ship on November 1, 2019.[1] The show was also announced to be featured on the Enchanted Princess in June 2020,[2] but the ship's delivery has been delayed due to the COVID-19 pandemic. The show was directed and choreographed by John Tartaglia and features reimaginings of Jim Henson's early works.
The official description reads:
"

Our brand-new puppet show is pure playtime. Created from the mind – and archives – of Jim Henson and brought to life by director John Tartaglia, this original production from The Jim Henson Company features short skits and humorous vignettes performed by live puppeteers. Whether they're dancing to classic rock songs or showcasing their one-of-a-kind perspective, these puppets put on a show like no other.[3]

"
The 30 minute show opens with a video introduction by Brian Henson.[4][5] Two versions of the show are featured; one for all ages, and an adult, late-night edition.[2] One promotional image features a puppet caricature of Henson surrounded by a menagerie of colorful creatures, including some specifically inspired from the Ostrich Feathers, the Snerfs, and the Business Business Creatures.

Sources
Community content is available under
CC-BY-SA
unless otherwise noted.