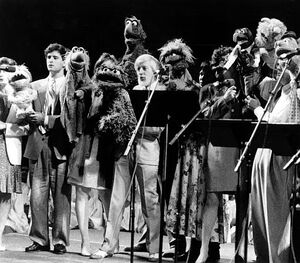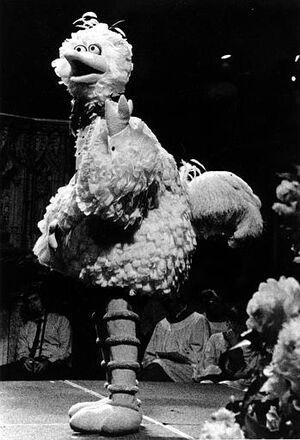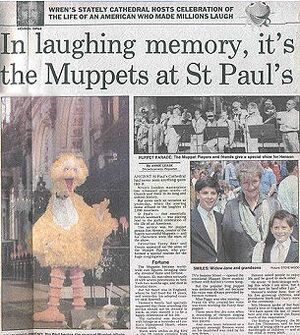 Following the death of Jim Henson, two distinct memorial services were held, both of which featured Muppet performances. The two events have often been conflated with each other. Moreover, both have been confused by fans with the actual funeral. The event was also twice referred to as "Jim Henson's funeral" in the Australian paper Courier/Mail, in separate articles from 1990 and 2004, and elsewhere in the media. In addition, occasional rumors have claimed that the memorial (singular) was televised; on the contrary, despite brief clips in documentaries and news reports, neither event was recorded for television. As noted by one journalist, about the London event, "The only sadness about the memorial service for Jim Henson at St Paul's was that no one televised it."[1]
Both events were open to the public; the only stipulation, from instructions drafted by Henson in 1986, were that no one in attendance wear black.[2] The other notable request was for the presence of a jazz band.[3] Both services were held in famous cathedrals; the first was held in New York City, and the second in London, to thus accommodate a greater number of Muppet performers, staff, and friends from the two regions where Henson had done the bulk of his work. The programs for both were fairly similar, but not identical; both combined hymns and Bible readings with remembrances from family and friends and Muppet performances, and both featured a solo by Big Bird and a gathered mass of puppeteers and Muppets for "Just One Person" as the closing song. An excerpt from a letter written by Henson four years before his death and addressed to his children was printed on the programs for both: "Please watch out for each other and love and forgive everybody. It's a good life, enjoy it."[4] Brian Henson also read this excerpt, along with several others, during the St. John's Memorial service. Another memorable quote touched on Jim Henson's feelings about death: "It feels strange writing this kind of thing while I'm still alive, but it wouldn't be easy to do after I go."[5]
St. John's Memorial
The New York memorial was held at the Cathedral of St. John the Divine on May 21, 1990, just five days after Henson's death. (Less than two years later, the same cathedral would host the memorial for Richard Hunt.) The service began with an organ rendition of the Sesame Street theme song, and "Rainbow Connection" from The Muppet Movie. Then the Dirty Dozen Brass Band entered, playing "A Closer Walk with Thee", followed by clergy, the church choir, and family. Harry Belafonte was present, paying tribute to Henson: "There is no question about Jim Henson's great artistry and the extent to which we have all been touched by it. Greater than his artistry was his humanity." Colorful butterflies on metal stems, crafted by the Muppet Workshop, were distributed to mourners, who waved them while Belafonte sang "Turn the World Around." A barefoot dancer in a sequined costume and painted face danced waving a foot-tall butterfly.[6]
In addition to Big Bird singing "Bein' Green" and the "Just One Person" closing, Muppet numbers included the male performers singing "Baby Face" in the voices of the chickens, "It's in Every One of Us" and "You Are My Sunshine" in their own voices, Kevin Clash rendering "Lydia the Tattooed Lady" in the voice of Elmo, Richard Hunt and Frank Oz singing "Simon Smith and His Amazing Dancing Bear" in the voices of Scooter and Fozzie Bear, Jerry Nelson singing "Halfway Down the Stairs" in Robin the Frog's voice, Nelson and Steve Whitmire singing "Wemblin' Fool" in the voices of Gobo Fraggle and Wembley Fraggle, Frank Oz singing "Cottleston Pie" in the voice of Bert, and Dave Goelz singing "I'm Going to Go Back There Someday" in the voice of Gonzo.[7] The service closed with the Dirty Dozen Brass Band playing "When the Saints Go Marching In."[6]
Just One Person
The performers and characters who sang "Just One Person" included:
Memorial Program
St. Paul's Memorial

The London memorial was held on July 2, 1990, at St. Paul's Cathedral. Jane Henson and four of the five Henson children were present. The service began, appropriately enough, with a choir singing "All Creatures of Our God and King." The Rt. Reverend Jim Thompson, the Bishop of Stepney, delivered the service, and joked that Robin's song "Halfway Down the Stairs" perfectly defined the Anglican position, safely nestled in the middle. He also stated his own preference for Kermit, but noted that he knew a rector who managed to go through life by clinging to Miss Piggy as his guardian angel.[8]
Eulogy by Frank Oz
At the London memorial, Frank Oz delivered the following eulogy, which highlights a lesser-know aspect of Henson's character—his talent for appreciation:
"... After the service in New York...I wandered around for days and weeks like many of us did. And, while I worked, and while I was with my family, I thought about Jim. I couldn't help but think about Jim.

I thought of course about what an insane, profound loss it was. And then of course so many images and memories of Jim came back to me. So many images. But one image kept coming back to me—just a fleeting moment. And it was not of Jim performing or directing. It was not of Jim with his family. It was not of Jim with his colleagues. And it was not Jim working so hard, and it was not even of the great, stupid, silly fun that we all had with Jim—that I had with Jim.

But this one image kept coming back to me...Just of Jim, standing, with his arms folded, just having a very warm smile—looking. And, it wouldn't go away. It just kept on coming back. I realized it was Jim, appreciating. I know where I got that image from, I think. It was from The Muppet Show here at ATV or The Dark Crystal, the movie, or wherever we were shooting when we would look back at the playbacks. The television monitor would be right there. We would shoot the movie or shoot the performance, as many of you know. And then we would play it back and judge it. Often we would judge it and say, "Oh, that was terrible. Let's do it again." But so many times I would see Jim—just appreciating it.

Many people see Jim as an extraordinary creator. I realize that I see Jim first as an appreciator. He appreciated so much. He loved London. He loved walking on the Heath. He loved...Parliament Hill, flying kites. He appreciated it so much. He appreciated his family and his colleagues and his Muppet family. And he appreciated the performances and design of a puppet. He appreciated the art objects that he might buy. He appreciated the detail in a Persian rug. He appreciated...just beauty.

Many times we would have meetings. I've known Jim for twenty-seven years now and this would always happen. And I'm sure some of you will remember. We would have a meeting and if it was a pretty day outside, he'd say, "Gee, couldn't we go outside? Couldn't we? It's nice out there. Couldn't we just go outside? Why sit in here?"

And he appreciated the day. He didn't realize why...why sit in a stuffy room when you could appreciate beauty out there? And I remember when we had meetings he would...often say, "Gee, can't we eat? Why don't we—I mean—isn't it time to eat? Can't we eat while we meet?"

And it wasn't because he was hungry. He just...it was a time to appreciate eating and it was a time to appreciate working. And even when he ate, I remember, he would always take dessert. He loved dessert. And he would...I just have this image of him...when you brought the tray over, I remember him saying, "What—what's that thingy—there?" He was always wiggling his finger and saying, "What's that little dessert thing?" I don't know why, but he couldn't order dessert without wiggling his finger. I'm not quite sure why that is but then he'd say, "I'll, I'll take that, that thingy there." And he would have it. And then he would eat it. And when he was eating it, you'd hear these little "Mmm's" from him, as he ate the dessert. "Mmmm. Mmmm."

And it wasn't just that it tasted good, which it did. But it was the time at that moment to appreciate it. To appreciate where he was at that moment—eating that dessert. And I think life was just this dessert for him. I really don't believe that Jim could have been such an extraordinary creator if he hadn't been such an extraordinary appreciator...[9] "
See Also
Sources
External Links
Community content is available under
CC-BY-SA
unless otherwise noted.